Fits tightly over your base plate and makes it easy to pull the fabric over it by reducing friction between the fabric and the rubber mat. Protects your base plate from stains.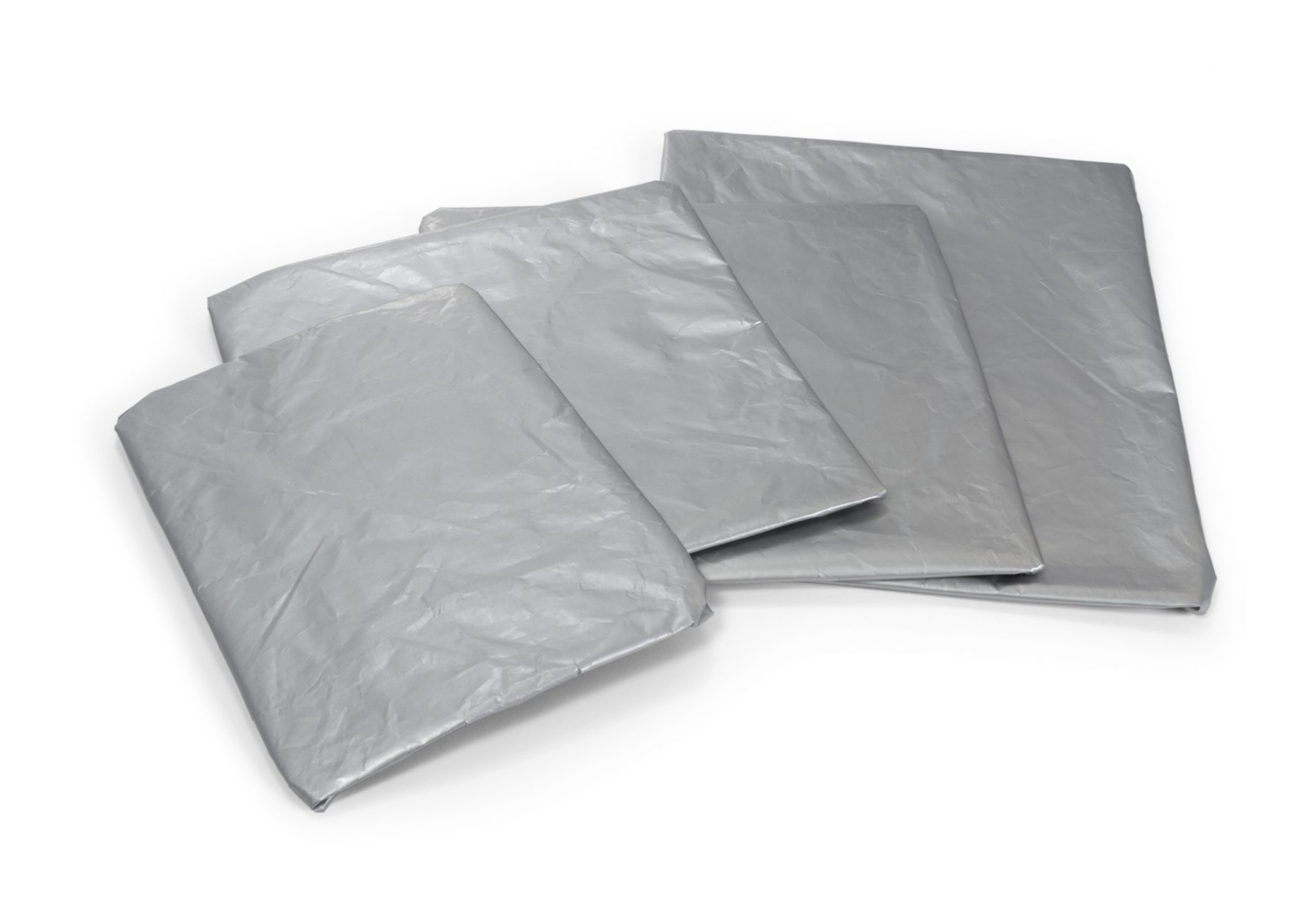 Easy to clean

does not absorb sublimation colour
Available in the following sizes:
28 cm x 38 cm

38 cm x 38 cm

40 cm x 40 cm

40 cm x 50 cm
Protection for your heating plate.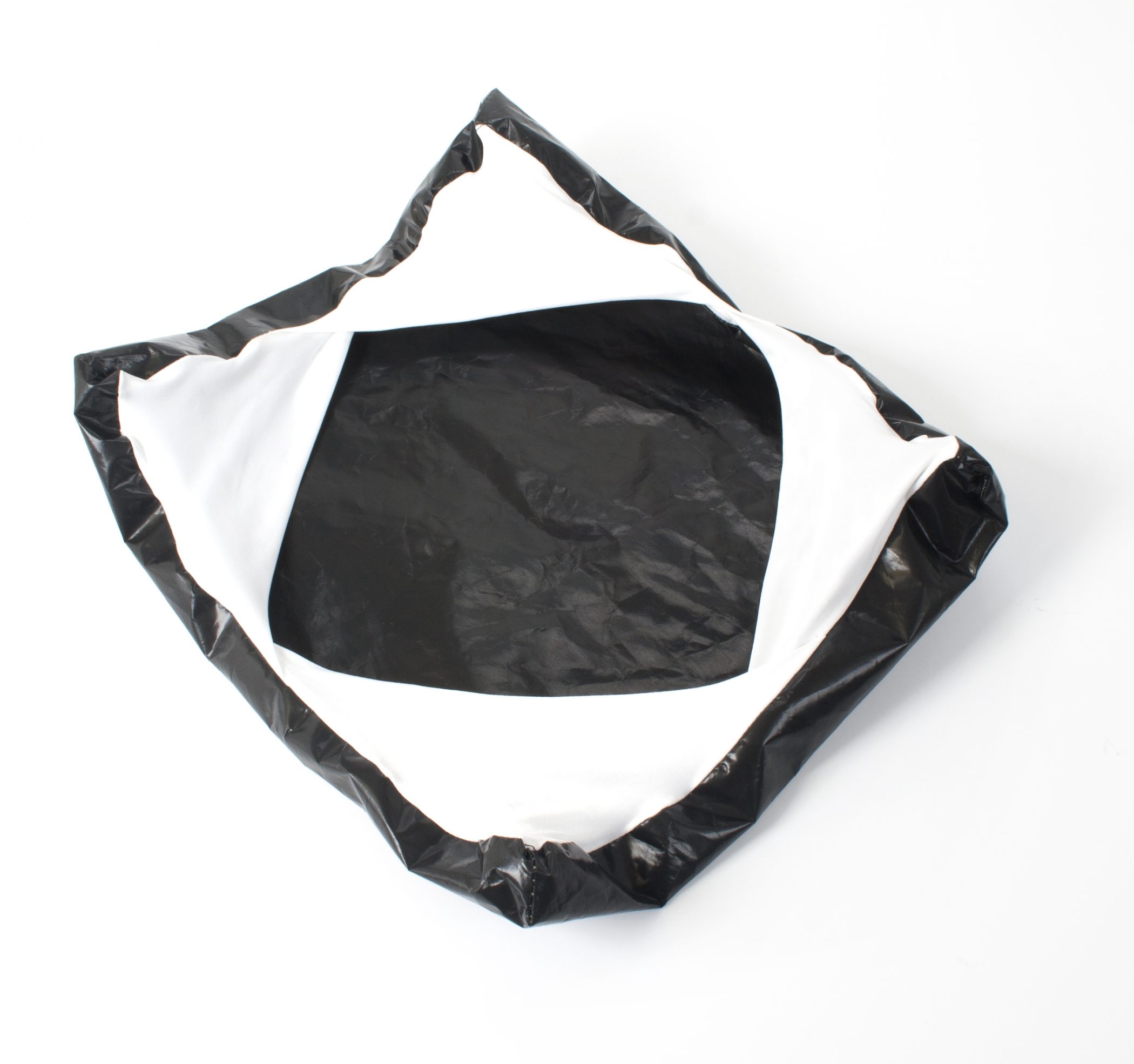 Easy to clean

does not absorb sublimation colour
Available in the following size:
Cover sheets are used to prevent a vacuum between the transfer and the heating plate and to give the prints different surface structures and finishes. Furthermore, the cover sheets protect your heating plate and your textile from stains.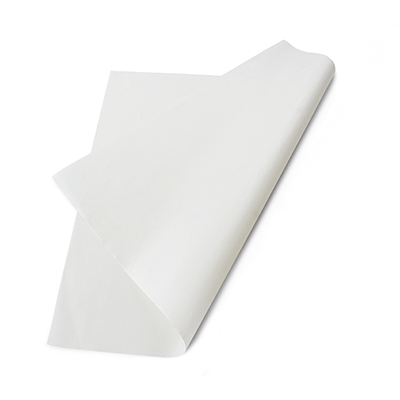 Cover sheet, non-stick coated:
Particularly robust

Stains can be easily removed

does not absorb sublimation colour

achieves a slightly glossy finish and a delicate surface texture

46 cm x 49 cm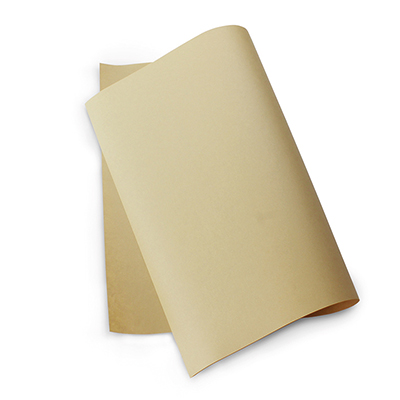 Grip cover sheet:
wax coated, not suitable for use with sublimation ink

Usually produces a matt surface finish

Each side can be used several times

ca. 38 cm x 48 cm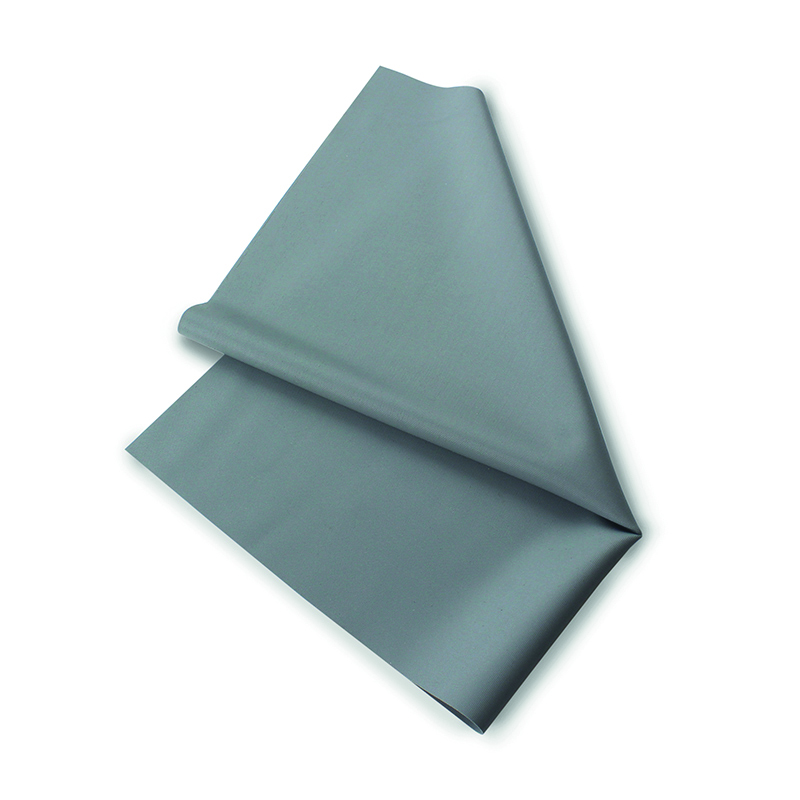 Grip rubber mat:
This high-quality silicone sheet is ideal for printing on shoes and for beautifying sensitive textile surfaces (ATTENTION: the mat reduces your printing temperature by approx. 20°C, please note this when printing).

Leaves a slightly textured surface

46 cm x 56 cm
Heat Press Caddie & Counter Caddie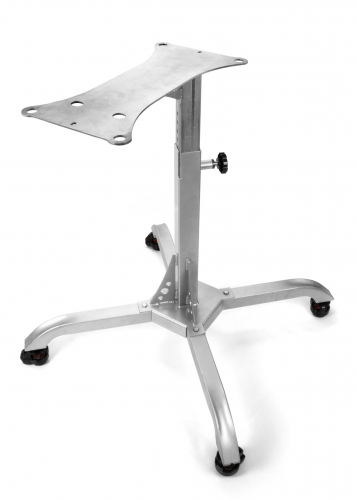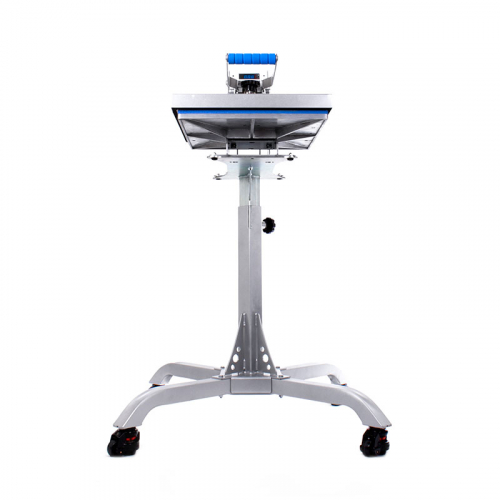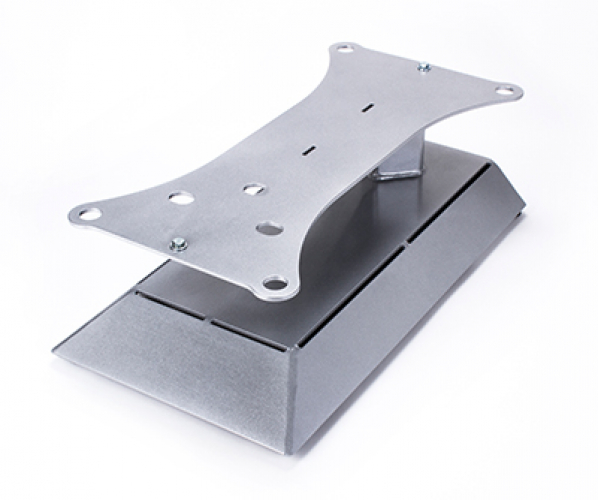 More flexibility with the Heat Press Caddie™ Customize your heat press individually to the user: with our Heat Press Caddie™ no problem. With the help of the caddy, your heat press is height-adjustable and can be repositioned at any time, even during operation, if necessary, thanks to the attached rollers. You can turn textiles directly on the bottom plate without removing the textile from the press. This saves you 40% of your production time!
Counter Caddie™. The Counter Caddie™ is the desktop version of the Heat Press Caddie™ and offers you the same advantages during the printing process. However, it does not have a stand and can therefore be used more compactly.
Specifications:

Shipping dimensions: 84 cm x 84 cm x 31 cm

Shipping weight: 27 kg
A wrench is required for assembly. Heat presses must be purchased separately. Suitable for MAXX™ & Sprint® Mag T-shirt presses (except XS). Please do not hesitate to contact us if you have any questions!
Hotronix® Caddie™ Shelves
Designed to mount on your Heat Press Caddie™, these sturdy, adjustable storage compartments help you store your transfers, textiles and accessories during press proofing and still keep them close by.
Stahls' Ez Weeding Table™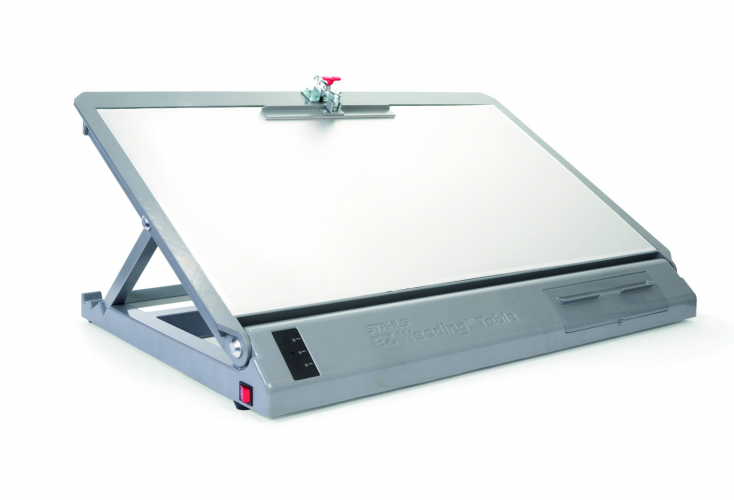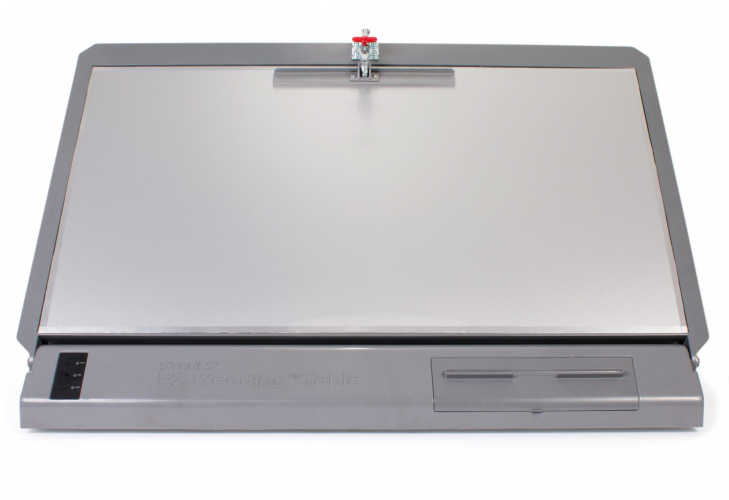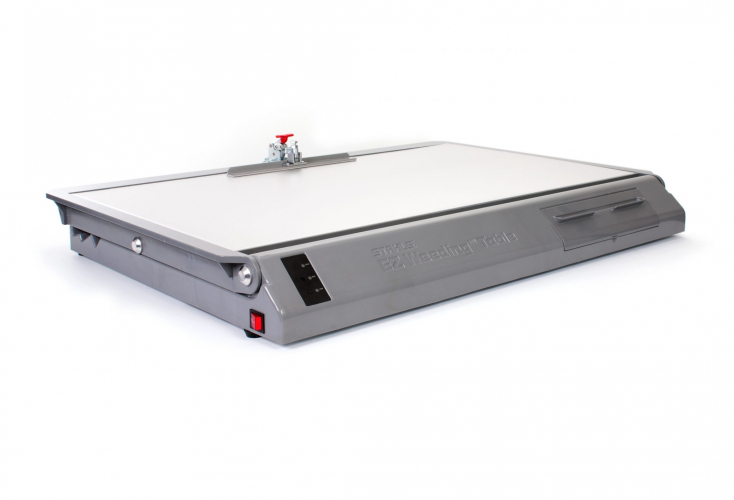 The EZ Weeding TableTM is a table-top attachment that facilitates the weeding of CAD-CUT® films with heat. The 51×91 centimeter tabletop can be angled for ergonomic working. The transfer film is attached to the table top with a clamp so that it cannot slip. The table top can be heated in three stages from 43°C (for small details) to 54°C (for maximum productivity). This heat reduces the adhesive strength of the foil carrier so that it can be weeded with less material breakage. An additional compartment offers storage space for frequently used accessories, such as the STAHLS' EZ Weeder.
Specifications:

Weight: 12kg

Dimensions: L 100cm x W 70cm x H 10cm

Working area: 51cm x 91cm
The EZ Weeding Table comes with a 2-year warranty!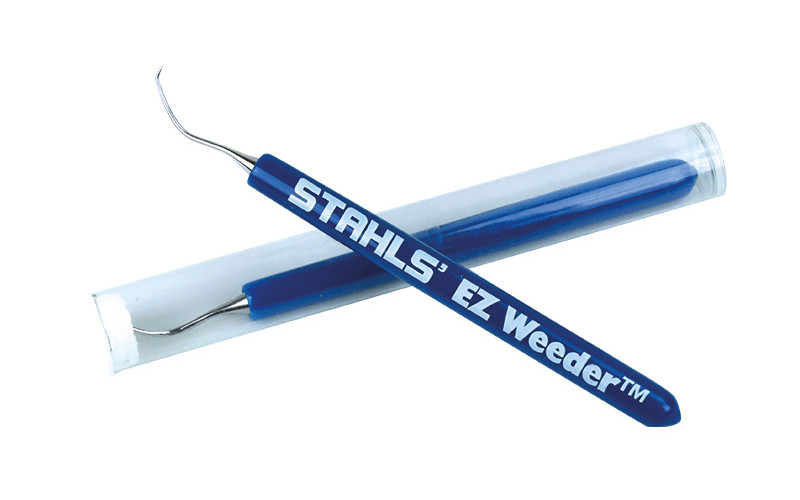 This tool simplifies the weeding of CAD-CUT® and CAD-COLOR® films.
LED Pin, LED Weeder and Tweezers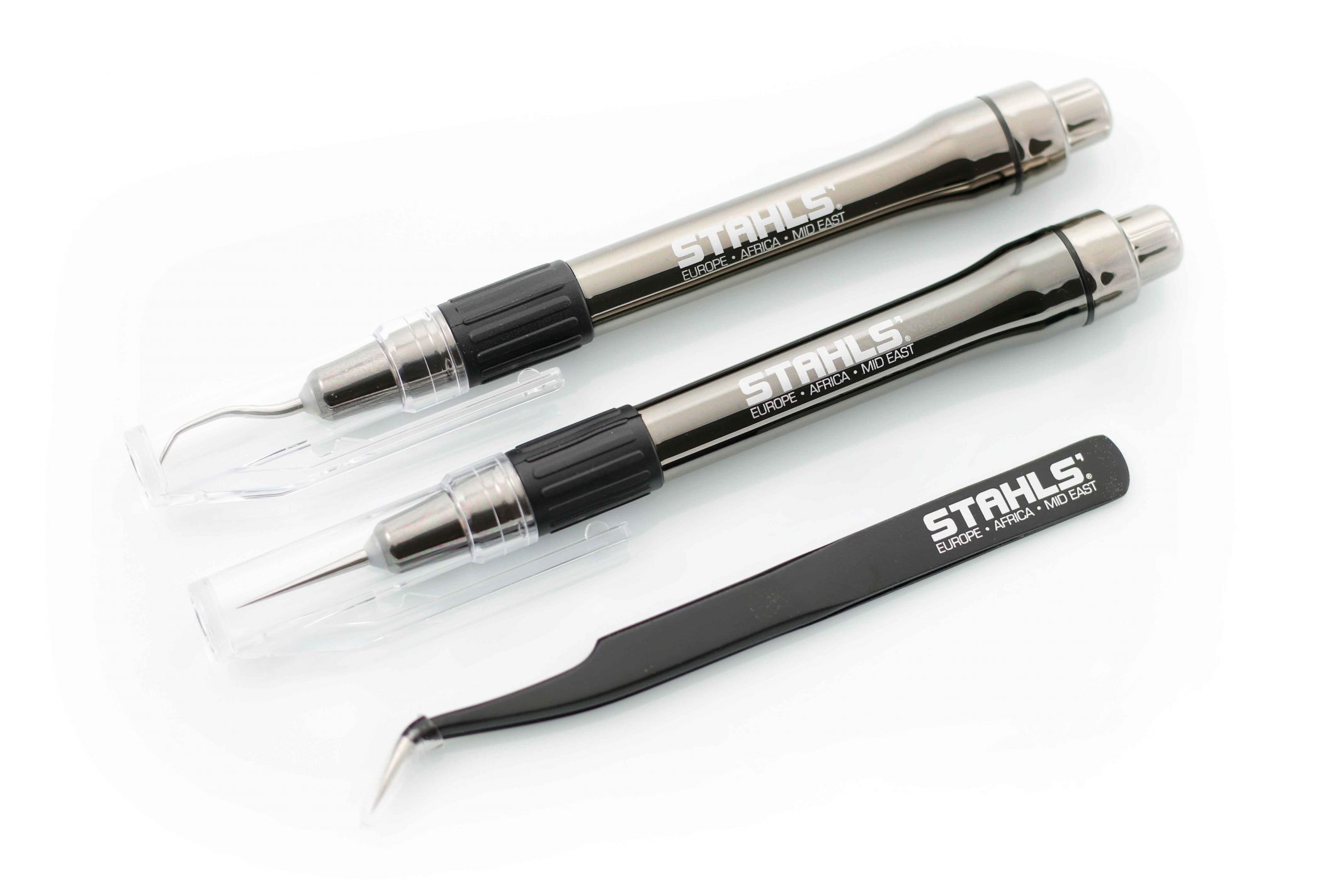 Pin and Weeder have an ergonomic handle, which makes the tool comfortable to hold. The handle is made of high-quality, sturdy plastic, which reduces the weight. The LED on the tip provides excellent visibility of the material and facilitates weeding. LED PIN with straight metal tip, LED Weeder with curved hook. The tweezers with their fine, curved tip complete the tool set.
Available individually or as a set.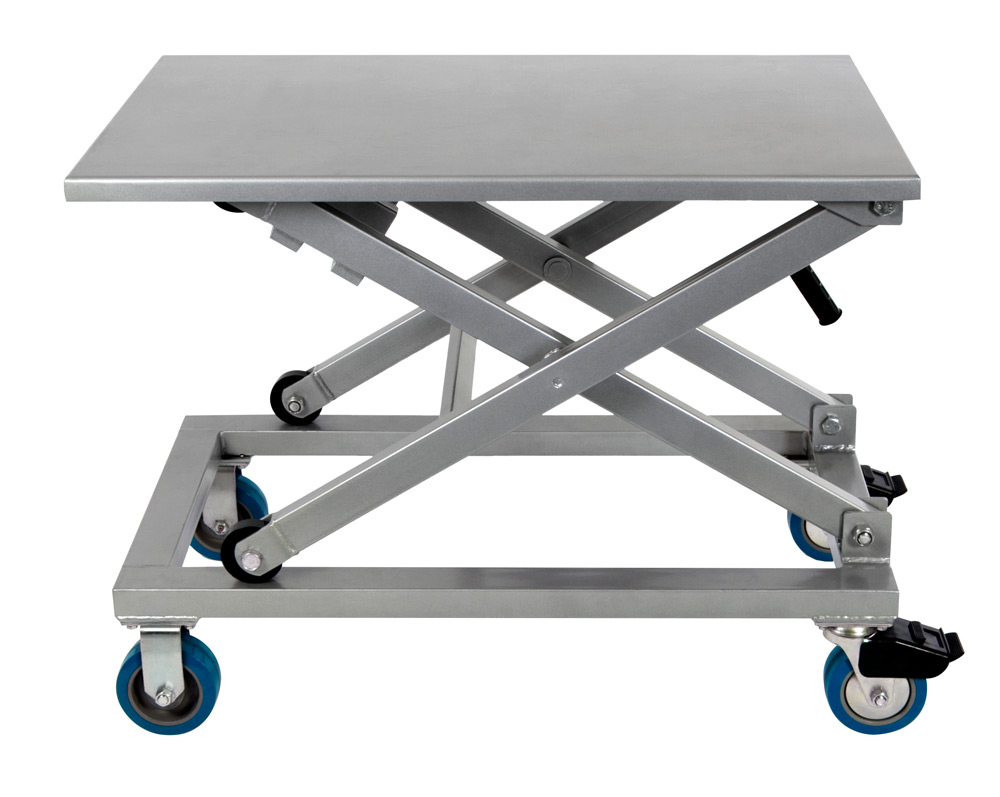 The scissor table is a stable, height-adjustable table that can carry up to 272 kg. This makes it ideal for the Hotronix Dual Air Fusion IQ™ as well as other heat presses and textile finishing accessories.
The heavy duty table is made of steel and has a powder coated finish. The worktop can be adjusted to heights between 43 and 89 centimetres. Movable wheels enable even heavy equipment to be moved in the room or pushed to the side.
With the help of the exchange base plates you can increase the flexibility of your heat press: the printing of children's T-shirts, sleeves or shoes - no problem with the matching base plate.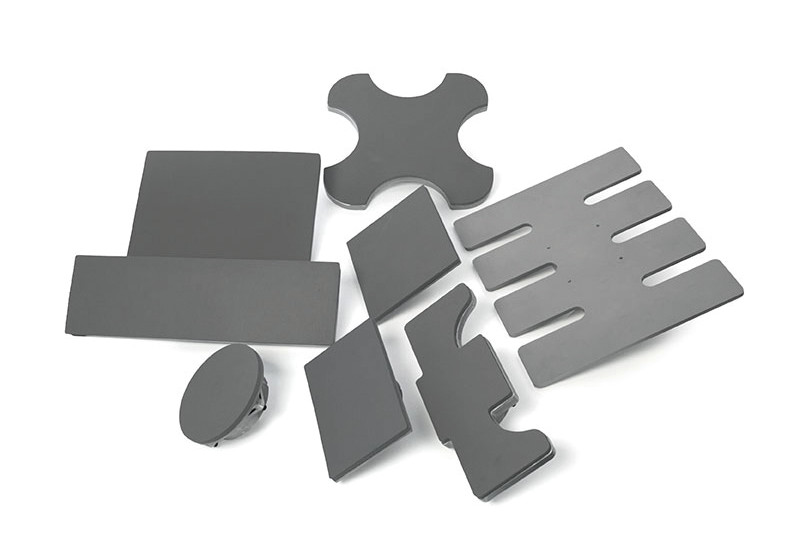 Auto open/MAXX™ Clam/Hotronix® Fusion IQ™/Air Fusion IQ™
18cm (circular)

10 cm x 10 cm

15 cm x 25 cm

20 cm x 25 cm

28 cm x 38 cm

40 cm x 40 cm

40 cm x 50 cm
Umbrella plate: 40 cm x 40 cm, 40 cm x 50 cm

Shoeplate: 15 cm x 38 cm

Sleeve/trouser leg plate: 15 cm x 51 cm

Hat Bill Plate

Can Cooler Plate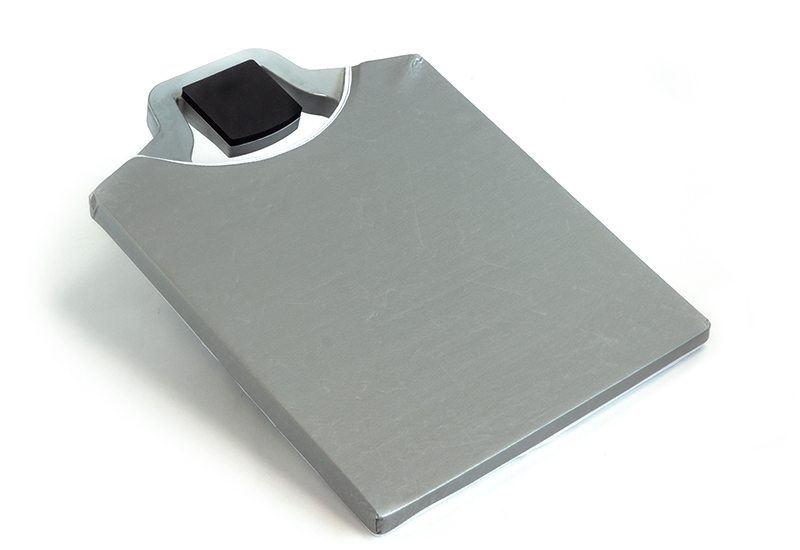 The Tag Along™ HP Platen gives you the ability to press two applications at the same time. All you have to do is to place the textile on the press, place the transfers and press - it's easy, saves your company time, and optimizes your efficiency. The Quick-Change system makes the base plate compatible with all 40 x 50 cm Hotronix® presses.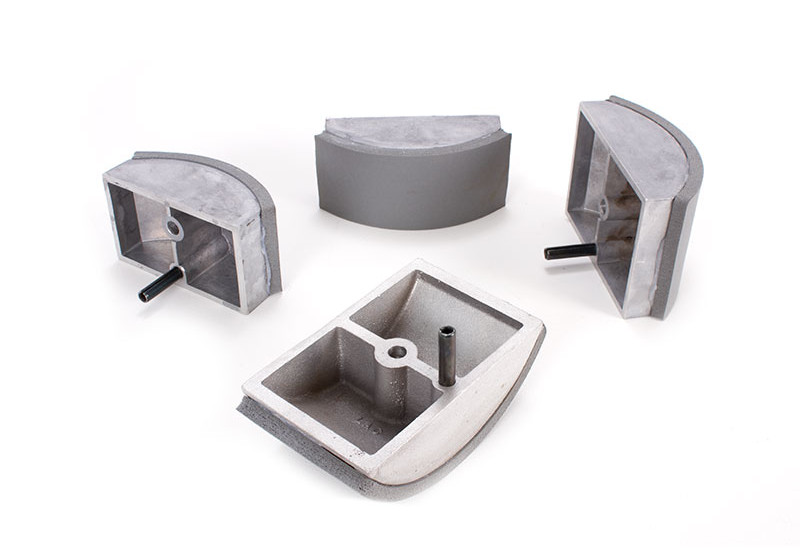 Auto open Cap/MAXX™ Cap/Clam Basic Cap
6,0 cm x 8,0 cm

7,0 cm x 16,0 cm

7,5 cm x 14,5 cm

9,0 cm x 16,0 cm

10,0 cm x 16,0 cm

10,0 cm x 22,0 cm
Pressure pad non-stick coated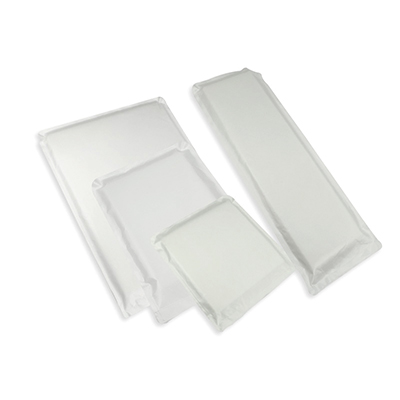 The pads are used to evenly distribute the pressure, e.g. when printing near V-necks, buttons, zippers, etc.; 2cm thick, foamed inner part and a pad sewn with non-stick material.
Available in the following sizes:
41 cm x 51 cm for oversized shirts

25 cm x 25 cm for youth shirts

15 cm x 20 cm for shorts and shoulders

13 cm x 46 cm for sleeves and legs
Also available as set (1 x per size)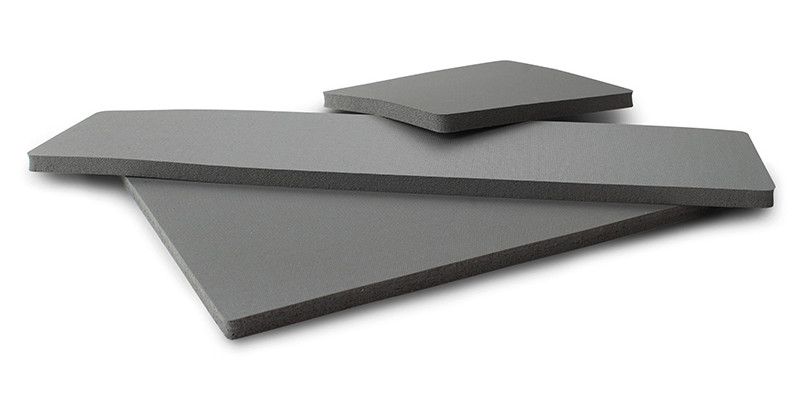 Increases the print area for perfect proofing - anytime.
9 cm x 40 cm

20 cm x 25 cm

13 cm x 15 cm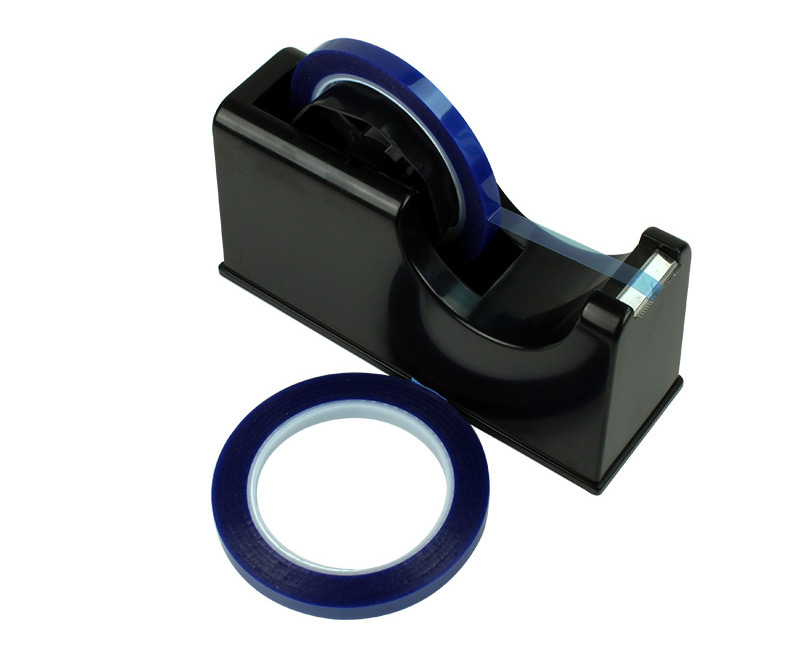 Thermoband:
To fix your heat transfers on the textiles

Heat resistant up to 204°C

ca. 66m long
Dispenser:
To insert the thermal tape

Stable footing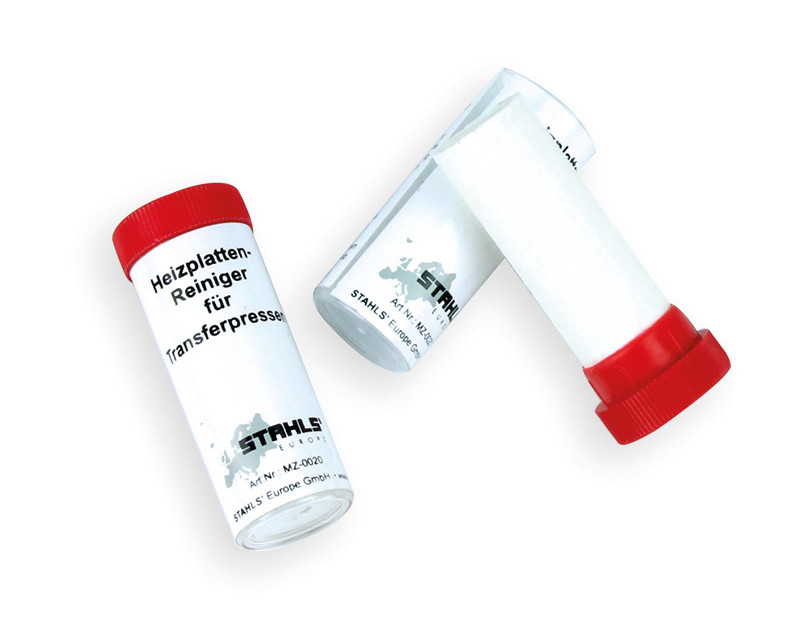 Available individually

Stable footing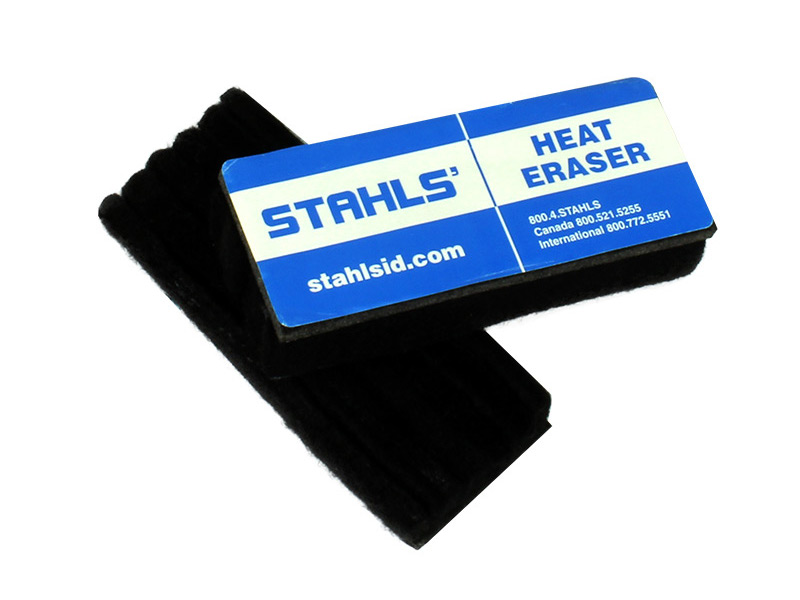 Cleans the base and heating plate

Allows your heat transfers to cool faster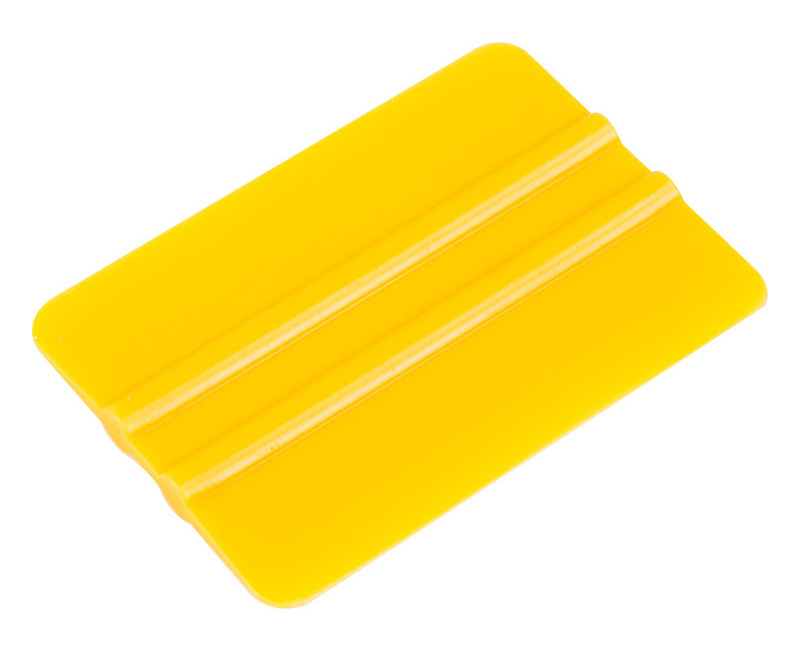 For attaching the heat-resistant transfer medium (e.g. Magic Mask® Plus) for digital print transfers.
Create long-lasting personalized name and bar code labels for clothing and non-porous hard goods. Simply choose cartridge type, enter information into the thermal label printer, print, and apply. This complete ID label system is perfect for schools and nursing homes, as well as businesses like dry-cleaners and garment manufacturers.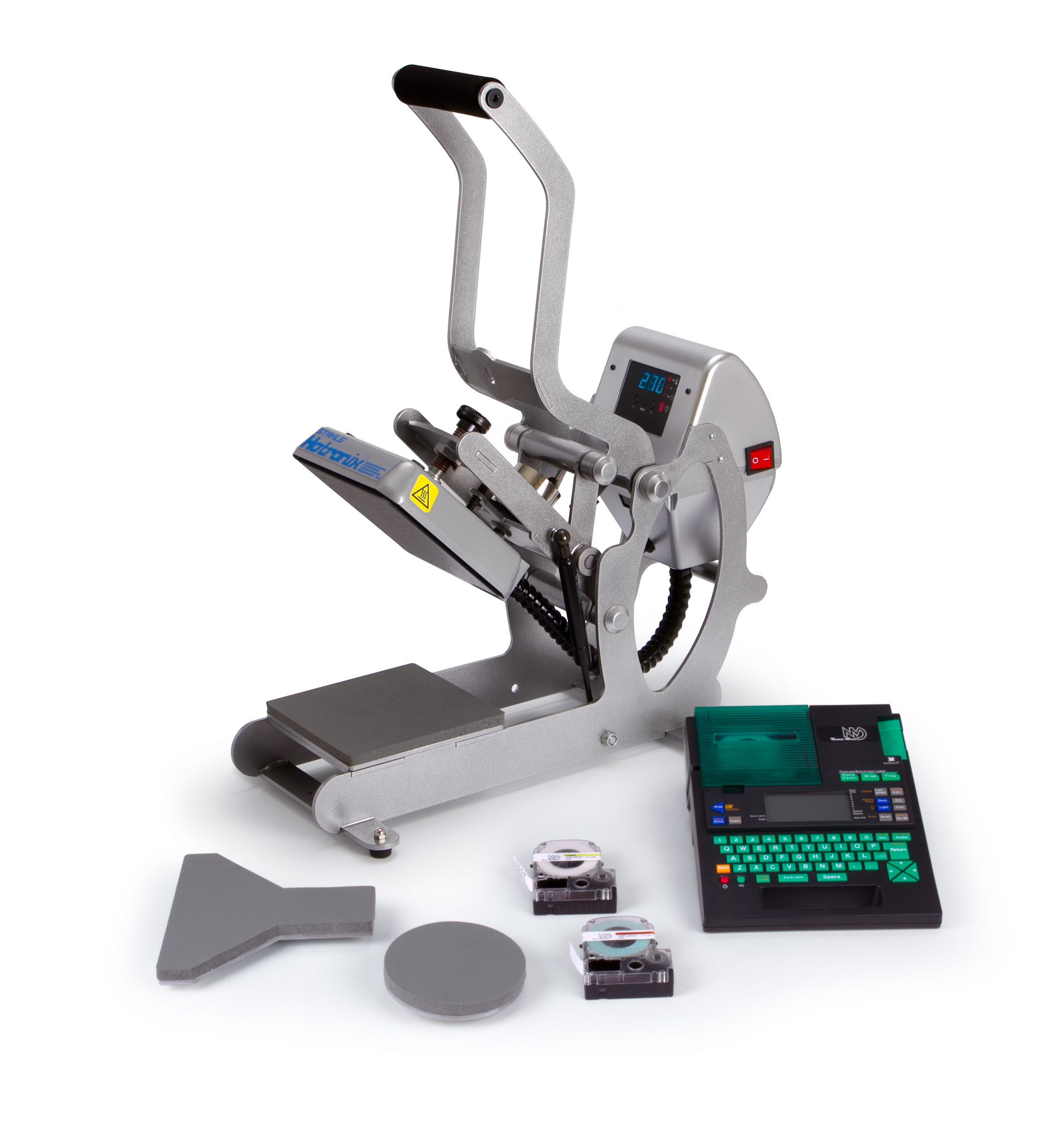 The ID Label System includes:
Hotronix® LowRider heat press

Three platens included: 15x15cm, 10cm round, 15 x 5 x 15cm

Thermal label printer plus six AA batteries, AC wall adapter, and software

Five fabric label cartridges

Four self-adhesive label cartridges

Non-stick cover sheet
Warranty on Heat Press (6*6 Low Rider)
Heating Element - Lifetime

Framework - 5 years

Circuit Board - 2 years

Parts & Labor - 1 year
Warranty on Label Printer
Give us a call, we will be happy to advise you:
+82 41 622 0936
or